Best Whale Watching Tour Agencies
Embark on an extraordinary whale of an adventure with the expertise of the best whale watching tour agencies around the world. Here at Whale Watching Tromsø, we are committed to showcasing you the top whale tour agencies that will make your whale watching experience truly remarkable.
In this comprehensive guide, we will introduce you to the 15 best whale watching tour agencies around the globe. Our esteemed colleagues have earned their reputation as industry leaders.
With their knowledgeable guides, safe and comfortable boats, and a shared commitment to whale education and conservation, these agencies uphold the same high standards that we do at Whale Watching Tromsø.
Join us on an incredible journey as we explore the crème de la crème of tour agencies specializing in whale watching. From the captivating Azores to stunning British Colombia and beyond, we'll transport you to the most well-known whale watching hotspots on Earth!
United States of America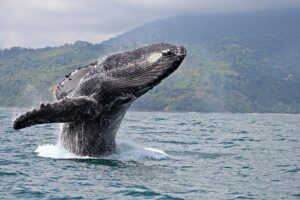 Hawaii Ocean Project – Maui, Hawaii
Led by Captain Dave Jung (an experienced and respected captain), Hawaii Ocean Project has thrived for more than 35 years as one of the best Hawaiian whale watching tour agencies out there. They are not only recognized for their support of the local community, but also for their eco-friendly cruises and collaborations with scientific marine research groups.
Passengers can contribute to scientific research through a voluntary donation program. And did you know that 100% of all donations and gift shop profits collected will used for whale conservation research? Talk about making a splash for a good cause!
Join the Hawaii Ocean Project on their 5-star Whale Watching Cruise and marvel at the beauty of humpback whales as they migrate to the warm Hawaiian waters between December and April for breeding and calving. Hawaii Ocean Project welcomes visitors at the far north end of Lahaina's historic harbor with warm aloha, ready to provide a memorable voyage. Aloha!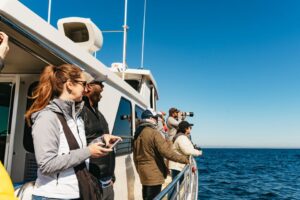 Discovery Whale Watch – Monterey, California
The Monterey Bay is known for its rich biodiversity and is considered one of the best whale watching destinations in the world. The sight of these majestic creatures breaching and spouting against the backdrop of the stunning coastal scenery is truly awe-inspiring.
With Discovery Whale Watch you can embark on their renowned whale watching tour. As you cruise through the pristine waters, keep your eyes peeled for awe-inspiring species such as humpback whales, gray whales, blue whales, orcas, and dolphins. The experienced guides on board will share their knowledge about these incredible animals, their behaviors, and the marine ecosystem.
Discovery Whale Watch is serious about reducing plastic waste. Alongside with their fellow businesses on the wharf, the company said goodbye to plastic straws and welcomes its guest to bring their own reusable container for free water refills, as well as complimentary coffee, tea, and hot chocolate. Sip sustainably as you embark on an unforgettable whale watching experience!
The peak whale watching season in Monterey Bay runs from April to December.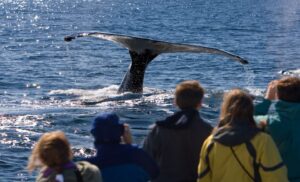 Alaska Tales Whale Watching – Juneau, Alaska
Alaska Whale Watching Tours is your ultimate choice for unparalleled wildlife viewing and whale watching experiences in Juneau.
The team consists of fully certified captains and crew members who hold United States Coast Guard certifications. Their extensive training ensures your safety and allows you to relax and enjoy the journey aboard our vessel.
From the moment you step onboard, you'll be in the hands of experienced professionals dedicated to providing an unforgettable Alaska whale watching tour.
The best time to visit Juneau for whale watching is from May to September, when humpback whales migrate to these nutrient-rich waters. During this period, the chances of encountering these majestic creatures are at their peak.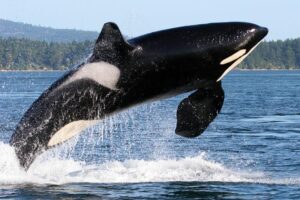 San Juan Safaris – Friday Harbor, San Juan Islands, Washington
Since 1995, San Juan Safaris has been a leading force in the whale watching industry, setting the standard for wildlife viewing guidelines that are followed today. With their fleet of three fast and meticulously maintained U.S. Coast Guard-inspected vessels, they offer an amazing 4-hour whale watching tour that combines speed, range, and an exceptional number of whale sightings.
What sets San Juan Safaris apart is their unwavering dedication to conservation efforts. They actively support research and participate in responsible wildlife viewing practices to protect and preserve the delicate ecosystem they operate in.
Did you know that with every tour ticket sold, $2 is donated to support orca and salmon conservation?
Since establishing the Conservation Fund in 2015, San Juan Safaris and partners have made significant contributions, surpassing $200,000 in donations to key organizations. These include The Center for Whale Research, Save Our Wild Salmon, and Long Live the Kings as well as smaller donations to The Whale Museum, San Juan County Land Bank, San Juan Preservation Trust, and the Shaw Centre for the Salish Sea.
Canada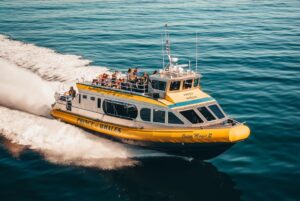 Orca Spirit and Prince of Whales – Victoria & Vancouver, British Colombia
When it comes to whale watching tour agencies in British Columbia, there are several reputable and reliable operators that stand out. Orca Spirit, located in Victoria, is a premier whale watching company offering unforgettable experiences in the abundant waters of the Salish Sea.
They offer a range of exciting tours, including a 3-hour whale watching trip and a wonderful 3-hour Zodiac boat trip.
To reduce their carbon footprint, Orca Spirit has chosen to invest in carbon offsets, supporting The Great Bear Rainforest initiative. This endeavor focuses on preserving an area that plays a vital role in maintaining the purity of the inland waterways, which directly impact our precious coastal marine environment.
The Great Bear Forest Carbon Project, an Improved Forest Management initiative, works towards emission reductions by safeguarding forest areas previously slated for commercial logging.
People who are interested in booking a whale watching trip in Vancouver, should get in touch with Prince of Whales. This top-notch whale watching company that offers unforgettable experiences with orcas, humpback whales, and more. Their thrilling 3-hour whale watching tour from Vancouver and their half-day whale watching tour from Telegraph Cove provide incredible opportunities to witness these majestic creatures up close.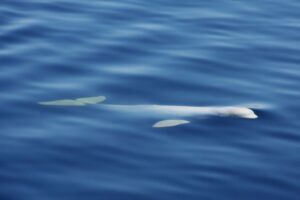 AML Cruises – Tadoussac & Baie-Sainte-Catherine, Quebec
Discover the wonders of Tadoussac and Baie-Sainte-Catherine while embarking on an unforgettable adventure with AML Cruises. Prepare to be captivated by the abundant whale populations and breathtaking coastal scenery that these regions have to offer.
Choose between two thrilling options for an experience of a lifetime. Embark on a 3 hour whale watching tour, where you'll traverse the picturesque Saguenay Fjord, encountering various whale species and immersing yourself in the awe-inspiring natural landscapes.
Alternatively, opt for a private whale tour with a zodiac , providing an intimate and exhilarating encounter with the whales aboard a small, maneuverable vessel. During your tour, you may have the chance to spot awe-inspiring species such as humpback whales, fin whales, minke whales, and belugas.
AML Cruises takes its commitment to conservation seriously. Partnering with Premier Tech Water and Environment and NAVTECH, the company has developed a wastewater treatment system that surpasses standards.
Additionally, they have significantly reduced drinking water consumption, achieving a remarkable 75% reduction on the AML Cavalier Maxim through innovative modifications.
Plastic consumption is minimized by offering alternatives to disposable water bottles and implementing systematic plastic recovery. Cruise passengers are even provided with reusable fabric lunch boxes. How cool is that?
In their commitment to eco-friendly transportation, AML Cruises promotes the use of River Shuttles, encouraging public transportation and reducing carbon emissions.
Europe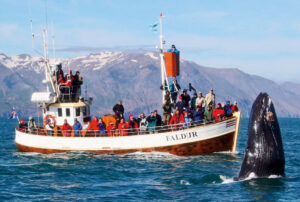 Special Tours and Gentle Giants – Reykjavik & Husavik, Iceland
Whale watching in Iceland is an exceptional experience. Reykjavik offers sightings of humpback whales, minke whales, dolphins, and porpoises. Special Tours is one of the most popular Icelandic whale watching tour agencies and provides a remarkable 3-hour whale watching trip from Reykjavik, ensuring comfort, safety, and expert guidance.
Special Tours complies with strict guidelines, such as the IceWhale Code of Conduct, to prioritize the welfare of the whales and their natural habitat. Additionally, the company actively supports research and conservation projects, collaborating with esteemed scientific institutions like the University of Iceland and the Marine and Freshwater Research Institute
In Husavik (known as the "Whale Watching Capital of Iceland) visitors can witness humpback whales, blue whales, minke whales, and orcas. Gentle Giants in Husavik offers a traditional whale watching tour with a focus on sustainable and responsible tourism.
Gentle Giants takes pride in its partnership with The Wild North, a visionary initiative focused on discovering innovative ways to foster the sustainable development of wildlife tourism, including responsible whale watching.
The best time for whale watching in Iceland varies, with peak seasons typically from April to October in Reykjavik and May to September in Husavik.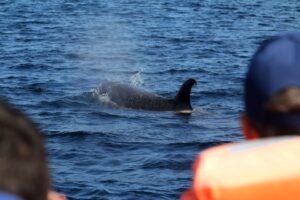 Futurismo Azores Whale Watching  – Azores, Portugal
Futurismo Whale Watching is renowned as a top whale tour agency in the Azores, offering an exceptional and educational experience for nature enthusiasts. With a strong focus on sustainability and conservation, they have established themselves as a leader in responsible wildlife tourism.
They have earned several certifications, including the EarthCheck Sustainable Tourism certification and the Biosphere Responsible Tourism certification. These acknowledgments demonstrate their continuous efforts to minimize their ecological footprint and prioritize the well-being of the marine ecosystem.
Their signature 3-hour tour, available through the provided link, takes participants on an unforgettable journey from São Miguel Island.
To make the most of this extraordinary experience, it is recommended to plan your visit to the Azores and book a tour with Futurismo Whale Watching between April and October, the peak season when marine life sightings are abundant.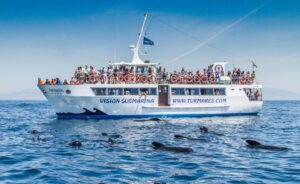 Tumares  – Tarifa, Cádiz, Spain
Tumares is a renowned company with a remarkable history in the Spanish whale watching industry. It all began 18 years ago when a group of maritime enthusiasts came together in Tarifa, Spain, to establish Turmares.
The year 2002 proved to be a turning point for Turmares, as whale watching gained prominence as an eco-friendly tourist and educational activity.
In response, the company established the Department of the Environment, focusing on environmental education and research. Their excursions provided valuable data that contributed to scientific research in the field of Cetology.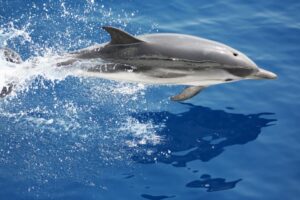 Consorzio Liguria Via Mare  – Genoa, Liguria
Get ready for an exciting adventure with Consorzio Liguria Via Mare, the best whale watching tour agency in Italy! Join their special boat tours in the Pelagos Sanctuary, guided by marine biologists. You'll get to see amazing marine animals like fin whales, sperm whales, beaked whales, and bottlenose dolphins in their natural home.
Before their unique 4.5 hour whale watching tour begins, a knowledgeable marine biologist guide will give you an introduction to the Pelagos Sanctuary. For many years, scientists and environmental groups worked hard to create this special place to protect the marine environment.
They wanted to make sure that the animals and their homes would be safe from human activities that could harm them. Finally, in 2001, the Pelagos Sanctuary was created by a law.
One of the reasons why this place is so important is because of something called "upwelling." It's when water from deep down in the ocean comes up to the surface, bringing lots of nutrients and food for the animals. This makes the Pelagos Sanctuary a very productive and rich home for many types of whales and dolphins.
Australia and New Zealand
Pacific Whale Foundation Eco Adventures – Queensland, Hervey Bay
Hervey Bay in Australia has become a popular hotspot for whale watching due to its unique attributes and natural advantages. The bay's sheltered and calm waters provide a peaceful sanctuary for humpback whales during their migration, making it an ideal resting and nursing ground for these majestic creatures.
With a relatively high concentration of whales, visitors to Hervey Bay are treated to incredible displays of breaching, tail slapping, and playful behaviors. The extended whale watching season from July to November offers ample opportunities to witness the captivating interactions between mother whales and their calves, as well as the mesmerizing courtship rituals of male whales.
Pacific Whale Foundation Australia, along with PWF Eco-Adventures Australia, is a registered charity dedicated to protecting the ocean and its inhabitants. With a history rooted in non-invasive whale research, they offer educational whale watching tours to share their findings and raise funds for their research, education, and conservation work.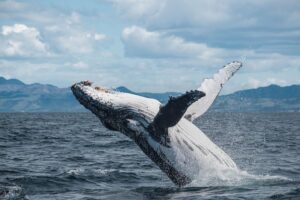 Whale Watch Kaikoura – South Island, Kaikoura
Located in the picturesque town of Kaikoura, Whale Watch Kaikoura provides the opportunity to witness the awe-inspiring beauty of sperm whales, dolphins, and other marine creatures in their natural habitat. What sets Whale Watch Kaikoura apart is their commitment to sustainable practices and cultural heritage, working closely with the local community and Maori partners to create a unique and authentic experience.
Their eco- friendly catamaran whale tours offer a 95% success rate backed up by an 80% refund if your tour does not see a whale.
The best time to visit Kaikoura for whale watching is during the winter months from June to August when the migration of the giant sperm whales is at its peak.
South Africa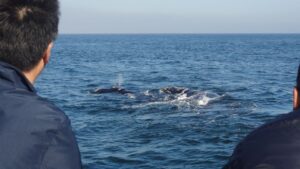 Hermanus Whale Watchers – Western Cape, Hermanus
Hermanus holds a special place in the hearts of whale enthusiasts worldwide due to its unique attributes. Renowned as the best land-based whale watching destination, this charming coastal town offers a front-row seat to the annual migration of Southern Right Whales.
Hermanus Whale Watchers offers an exciting opportunity to observe Southern Right Whales in their natural habitat. During their 2-hour whale watching & wildlife tour, you have the chance to encounter not only Southern Right Whales but also other fascinating marine animals such as Cape Fur Seals, dolphins, penguins, and even Humpback Whales, depending on the time of the season.