Whale Watching In Norway
If you are a wildlife lover or explorer, whale watching in Norway must be at the top of your bucket list.
One of the great pleasures of the natural world is spotting an elusive fin breaking the surface of the water. Or, if you are among the lucky ones, you might witness an adult whale breaching, throwing itself out of the water. 
But as with most wildlife safaris, it's important to be at the right place and at the right time. That's why today's guide discusses the details about whale watching tours in Norway, the best spots to visit, and what species you might encounter.
What is the best time for whale watching in Norway?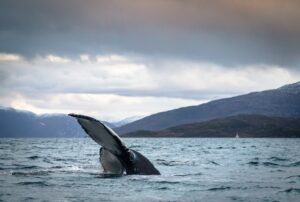 The best time for whale watching in Norway varies based on what species you want to spot, following which you can choose the region. We recommend visiting the country between November and January to spot humpback whales and orcas. 
But this is the peak whale watching season, so if you want to spend time away from maddening crowds, plan a trip between May and September. You can spot porpoises, minke whales, fin whales, belugas, and blue whales in large numbers.
If you can't decide which time would be ideal, some Norwegian hotspots are open to whale watching all year round. Specifically, the region surrounding the Vesteralen Islands is a prime spot for sighting rare marine mammals right off the coast. Some rare species that visit this region include humpback whales, sperm whales, white-beaked dolphins, harbor porpoises, pilot whales, and orcas.
What are the best places to see whales in Norway?
Although there are several prime spots, we believe the northern part of the country is the best place to see whales and orcas in Norway. Most whale sightings in this region, especially Tromso, are only a boat ride away, offering visitors a chance to witness some rare species up close.
Various tours operate in Tromsø throughout the year but are more frequent during winter. Many tourists prefer to book silent whale-watching tours or head down to Skjervøy, where they might not have to cross the high seas and lashing waves to spot whales.
Other than that, you can go to the Lofoten Islands to spot marine wildlife any time of the year, while the Svalbard Islands are famous for beluga sightings. 
If you have time, head further north to the Vesterålen archipelago, which houses the world-famous Andenes village. This place is referred to as the "Whale kingdom of the North" by many, as the waters abound in popular whale species, porpoises, and dolphins.
Spend The Day Whale Watching In Tromsø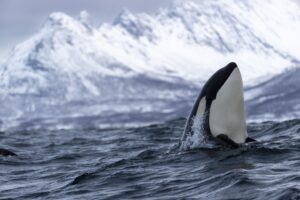 Let's start with Tromsø, arguably one of the best places for seeing different whale species in the wild, but you have a limited window to travel to this picturesque destination. Although whale-watching tours run throughout the year, plan a visit during November-January to have the maximum chance of spotting these mammals.
The light will be less due to shorter daylight hours, so remember to bring a proper camera for low-light photography. Also, the boat rides tend to be longer since the whales usually prefer the waters further out in the Atlantic. 
You might have to spend 7-8 hours on the sea, out of which 1-1.5 hours will consist of whale watching near their prime feeding spots. But you will get to spot other marine life along the way, so keep an eye out. 
It would be best to book the tours early and with an ethical company, adhering to the whale-watching guidelines. Click here to book your ticket!
Go whale watching in Skjervøy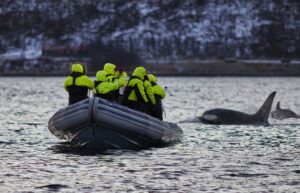 It's common knowledge that you should never expect too much from a wildlife safari because animals are unpredictable, and you may not see anything on some days. But those days are few and far between when whale watching in Skjervøy , as they are sighted quite regularly by tourists from across the world.
Skjervøy is a group of islands in the Lyngenfjord region, which in recent times, has been welcoming large groups of orcas and humpback whales. You can take a bus to this place or begin the tour from Tromso, 3 hours away. 
We suggest opting for the longer boat ride unless you're short on time to truly experience the beauty of the landscape. Moreover, some operators run silent tours, switching off the boat and using an electric engine to creep closer to the whales without disturbing them.
You should visit Skjervøy  in winter when the tours are frequent, and the whales come in large numbers. Just remember to pack warm clothes and thermal wear. Click here to book your ticket!
Note: You also have the possibility to go swimming with the orcas.
Whale watching in Lofoten
The best part about whale watching in Lofoten Islands is that the whale watching tours operate throughout the year. Tourists usually spot several marine wildlife, but as for the whales, you might get to see specific species, depending on when you visit. Usually, porpoises and sperm whales are visible in winter, while humpback whales and orcas frequent the region in summer.
Visit Lofoten with time on your hands and take one of the guided tours for whale watching in Tysfjord. These boat tours are also quite long and last 10 hours, with the main attraction being orcas. 
You can also go whale watching in Narvik to see orcas, blue whales, humpback whales, and other wildlife like eagles, seals, and puffins. 
Update 2022: Over the last few years, the herring (that the whales and orcas follow and eat) have been moving up north. Whale watching in Narvik en Tysfjord has therefore been moved to the northern regions like Tromsø, Skjervøy, Senja and even Alta. 
Whale Watching in Andenes
Another famous destination for whale safaris is Andenes, especially since it's located between the popular spots of the North Cape and Lofoten. Most people visit the seas outside Andenes during summer because sperm whales frequent them. But if you are lucky, you could also spot pilot whales and orcas. 
This region is famous mainly because of its large squid population, which forms a major part of the whale's diet. So, touring companies will take you to the feeding grounds since the whales don't venture far from there. 
Each boat is further equipped with hydrophones to pick up underwater sounds and track the whales when they call out to each other. Best of all, the trips are short due to the large whale population, with researchers and students accompanying tourists to educate them about these beautiful animals.
Whale Watching in Alta
One of the greatest wildlife experiences you can have is to watch a whale breaching, and there are few better places in the world than Alta. Situated in Arctic Norway, Alta is a small city surrounded by water that offers fantastic opportunities to watch different whale species between October and February.
The whales swim into the water, searching for herring near the fjords before heading back in summer. So, plan your trip in winter and enjoy a stay in this sparsely populated town of 20,000. 
Compared to other whale-watching tours, many operators in Alta use rapid inflatable boats for minimum disturbance. Beginning early in the day, these tours last for 5-6 hours until late afternoon and take tourists to the feeding zone. You can usually spot humpback whales, harbor porpoises, and orcas from right up close while enjoying the majestic fjords and Arctic landscape.
Ethical And Eco-Friendly Whale Safaris in Norway
Whether the whale-watching tour is ethical largely depends on the operator you choose. Reputable organizations adhere to the National guidelines for whale watching to prevent harming these magnificent animals.
Over the years, it has been found that too many commerical boats following the whales disturb them, with excess noise hampering their communication and hearing. That's why the best tours keep a safe distance and refrain from venturing too close to the pods, especially when mothers are with calves. The last thing you want is an angry whale to lash out in self-defense. 
Thankfully, whale watching organizations are focused on educating tourists and protecting these beautiful marine mammals.